Kimee Balmilero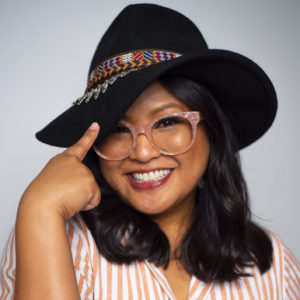 Originally from Kāne'ohe, Kimee Balmilero is the founder and "Head Sillypino" of Improv Hawaii. She is best known for her series regular role as medical examiner Dr. Noelani Cunha on Hawai'i Five-0 and Magnum P.I. Other professional credits include: The Original Broadway Cast Of Mamma Mia, the 2nd National Broadway Company of Miss Saigon, and a short stint on The Star Of Honolulu as "The Bali Hai Girl."
While working in New York and LA, Kimee studied improv comedy at the famed Upright Citizens Brigade and performs with the on-going show Filipino AF whenever she is back in Los Angeles. Kimee also recently appeared at the San Francisco Sketch Fest with Filipino AF and Asian AF.
Since moving back to Hawai'i in 2012, Kimee has started a handful of independent creative projects including: ImprovHI, The Annual Hawaii Comedy Festival (a three-day festival focused on educating local comedic entrepreneurs through sketch comedy workshops/platforms to showcase their work), Stage Fish (a theatre production company) and the soon-to-be released ActorsHI— a website designed to empower, elevate and highlight local actors.
A lifetime student of iconic director/educator Ronald E. Bright, Kimee often performs musical improv comedy with her troupe Thoroughly Modern Biggie every first and third Saturday in Kakaako.
When not acting, producing, directing or writing her own bio, Kimee likes to stare at her husband's face. She is an only child. Go figure. kimeeb.com
Classes taught: Levels 201-301, Comedy Camp for Kids and Teens, Special workshops

Michael "Donut" Donato
Michael "Donut" Donato has been a part of the local improv community for several years. He believes there is always something to learn and discover through improv and stage, no matter if you've been doing it for five minutes or fifty years! Donut is on the roster for Think Fast Improv as well as the coach of his own team, one that develops more genre-based improvised productions. When he's not being a dog handler (his day job) or being involved in improv (his passion), he spends his Saturday nights with great food and murders in The Dinner Detective, a "whodunnit" dinner theatre show in Waikiki. Improv is an excellent tool to learn about yourself and a friendly way to open up to others, and Donut is excited to show students that flying without a script isn't anything to be afraid of.
Classes taught: Levels 101-201, Comedy Camp Teens, Special workshops

R. Kevin Garcia Doyle
R. Kevin Garcia Doyle has been involved in improvisation in Hawaii since 1989. Currently, he is proud to be a member of On The Spot as well as the education director of Improvaganza: The Hawaii Festival of Improvisation. He also works with the improv rock band Oil in the Alley and in the duo Ajar. R. Kevin was a founding member of Loose Screws and remained with that group for 17 years. With On The Spot and Loose Screws, he's performed at the Chicago Improv Festival, the Seattle Improv Festival and the NBC Sketch Showdown in Los Angeles. R. Kevin was a member of Loose Screws' Screwbuki cast when it received "The Compass: Innovation in Improvisation" award at the Chicago Improv Festival. In addition to his improv work, R. Kevin is one of the founders of the Hawaii Shakespeare Festival. He is married to Sharon Racho Garcia Doyle and together they are raising six feisty cats.
Classes taught: Levels 101-201, Comedy Camp Teens, Improvised Musical, Special workshops

Ixchel Lopez
Ixchel Lopez is a performing artist, choreographer, and director, having worked all over the US both onstage and in front of the camera. In Hawai'i, she's appeared on Hawaii Five-0, The Rocky Horror Show (Magenta), In the Heights (Daniela), The Hawaii Comedy Fest as an actor, writer, and director, and various shows as a part of Improv Hawaii's featured musical team: Thoroughly Modern Biggie. She is an instructor at Susan Page Modeling and loves all things fashion (although she's in sweatpants most of the time). When Ixchel isn't performing, she is watching documentaries with her cat or celebrating Halloween year round.
Classes taught: Levels 101, 201

Kiyoshi "Yosh" Shiraishi
Originally from Hawaii, a class advertising "conquer fears", "overcome shyness", and "learn how to fail" is what caught Kiyoshi "Yosh" Shiraishi's attention and lured him into the world of improv. After moving to Washington state for university, he stuck around in Seattle and started improvising in 2013. He started studying at Unexpected Productions and Jet City Improv in Seattle before moving back home to Oahu and joining ImprovHI in 2017. A data analyst and self-proclaimed nerd, Yosh studied and made a career in areas with few opportunities for subjectivity, creativity, and laugh-itivity. He enjoys improv most for the chance to play and be goofy and delightful with wonderful people. Yosh is a regular player with Improv Hawaii and is also the coach for their resident short form team Short Stack.
Classes taught: Levels 101 – 301, Short Form, Advanced Narrative

Jose Ver
Jose Ver is a local actor, comedian and current cast member at Disney Aulani. He is also an original player and instructor with Improv Hawaii. Other creative credits include: Hawaii Five-0, The Hawaii Comedy Festival, The Original Jams Improv Show as well as various theatre productions in Honolulu. Jose has also worked with young students at Mid-Pacific Institute and Maryknoll. Jose is a member of the musical improv comedy troupe Thoroughly Modern Biggie. He also watches A LOT of "Star Wars."
Classes taught: Levels 101-301, Short Form, Comedy Camp Kids & Teens

Special Guest Instructors
Daryl Jim Diaz
DarylJim is originally from the Big Island, and moved to Los Angeles and earned his BFA in Musical Theater. Along the way he fell in love with improv comedy. You can find him performing in improv shows like: Filipino AF, Asian AF, Gaysian AF, Quick & Funny Musicals, Anything Goes: Half Improvised Musical Theatre, and more. On-screen credits include: The 2018 Oscar performance of "This Is Me" from The Greatest Showman, Credit Karma "Carpool" commercial, and more.
Classes taught: Special Workshops
Jiavani Linayao
Jiavani Linayao is an improviser and teacher based out of the legendary UCB Theater in Los Angeles. She appeared in the Netflix film Between Two Ferns, has voiced characters for Cartoon Network and performs musical improv internationally with the touring company Baby Wants Candy. Jiavani has taught classes and workshops throughout LA and has traveled to teach in Iceland, Scotland, Australia and more.
Classes taught: Special Workshops
Chris Renfro
Chris Renfro is a writer and performer at the Upright Citizens Brigade Theatre in Los Angeles, CA*. He produces and co-hosts Gaysian AF as part of the hit variety show, Asian AF. Chris is also house team performer at The Second City Hollywood and an alumni of the CBS Diversity Sketch Showcase.
Classes taught: Levels 101-301 Sketch Comedy Writing
Vince Yap
Vince Yap performs regularly on Harold Night at the Upright Citizen's Brigade Theater in Los Angeles. He has appeared in several national commercials and is part of the Screen Actor's Guild. He is originally from and resides in Los Angeles. Prior to acting, he worked as a special education teacher. In addition to acting and improvisation, Vince is also a screenwriter.
Classes taught: Special Workshops